Hello, my friends! We're finally back, after a well deserved two months vacation period! First of all , let me thank you all for the massive participation in the 1999 Best Exposure contest. I'm very glad to see that Full Exposure is certainly a sucess.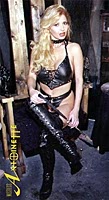 I hope you keep coming to check our special guest in the next months. We are preparing a series of very exciting and beautiful issues. As usual we will bring you the most amazing fetish celebraties.

So, for the first issue of the year here you have Mistress Antoinette from Florida USA!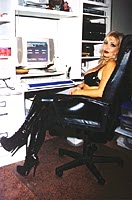 Mistress Antoinette accessing our site

I'm sure you'll be delighted with her pictures. Let's see what she want to show and say to you: