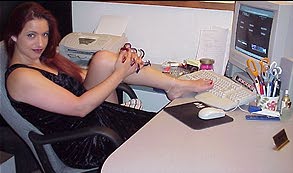 Mistress Brandi browsing Feet & Shoes on the Web.

For this July/99 issue we present Mistress Brandi Ryder in Full Exposure. Mistress Brandi is a lifestyle dominant living in southern California area (USA). But who could be better to tell us about M.Brandi besides herself?! So, in the next pages, she is in their own words.
Welcome to the first edition of Full Exposure. Every month you'll meet a very special guest from the fetish world. Our guests will tell us about their lifestyle and fetishes. Besides of that, they will present you an exciting set of high quality images to illustrate this section.

M.Brandi's feet and her 3 inches long nails.