Hi, fetichists! Welcome to the December edition of Full Exposure. We apologize for the delay on releasing this issue, but we finally got it. This edition is so cool! I'm sure you will be excited about our special guest. We bring you the awsome Vinyl Queen from San Francisco!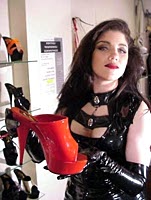 Vinyl Queen accessing our site

"I am the Mistress known as the Vinyl Queen. As my name suggests, I have quite an extensive wardrobe of viny l, or PVC as it is also known. My love of shiny fabrics also extends to my footwear. I consider myself to have a foot/boot fetish since I love to wear certain types of shoes."