Welcome to the August issue of Full Exposure. I have received tons of messages since last issue. Thank you! It's very nice to see that so many of you liked so much our new section. Feel free to drop me an e-mail for any comments or suggestions.

I'm sure that all feet & shoes fetichists will be delighted with this issue, so don't miss a bit! Click on the pictures to see the big ones and click "next" on the navigation bar (at right) to enjoy each of the six pages of August's Full Exposure!
Our special guest this month is Mistress Diana Balance a very famous dominatrix from New York City. She sent us an exclusive set of exciting photos on her feet & shoes. I'll let Mistress Diana speaks for herself now!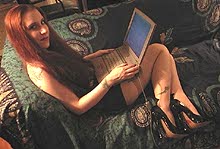 Mistress Diana (on heels) accessing our site

"To the devoted readers of Full Exposure: I'm going to sway from the traditional Dominatrix interviews, which are available elsewhere. I love to collect quotes and have decided to share a few dedicated to our favorite subjects - sexy feet, towering stilettos, and silky stockings. Enjoy!"